Contact Us For A
Free Estimate*
Privacy Statement: Your privacy is valued! Your personal information will be kept confidential and will not be redistributed or shared with any third parties.
Financing Options For Greater Portland & Vancouver Metro Area Homeowners
Window World of Portland proudly offers financing options through the Window World Credit Card Program*, allowing you to start enjoying your new products now. As a Window World Card Holder, you'll be able to enjoy benefits like convenient monthly payments, a revolving line of credit for all of your purchasing needs, special promotional offers where available, and an easy to use online bill payment option.
You can connect securely to begin our simple online credit approval process, which uses the most up-to-date online security features to protect your information. You'll receive a decision regarding your application within minutes, and you'll be ready to set up an appointment to begin your home improvement project. Or, you can apply for your home improvement loan during your in-home estimate. Apply today to pave the way for your home improvement!
Please contact us for more information regarding the financing of your home improvement projects.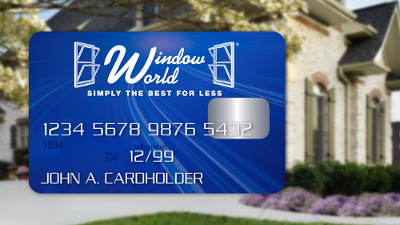 *The Window World Credit Card is issued by Wells Fargo Financial National Bank with approved credit.
Looking for a price? Get a no cost, no obligation free estimate.