About Window World of Portland
Window World of Portland is locally owned and operated by owners John Rouse and Bill Mallory. Always committed to bringing the finest exterior solutions to our customers, we have been providing our signature vinyl windows, siding, entry doors, patio doors, storm doors, garage doors, and more to the Portland community since our start in 2007.
With a combined 47 years of construction expertise, John and Bill lead our team of estimators, installers, and office staff in our mission to offer remarkable service from the start to finish of every job. Having served over 3,000 homeowners in the region, our business philosophy is based largely on building relationships with customers. We take pride in the value we provide through our service, high-quality products, and years of construction experience.
The Window World of Portland team is delighted to serve our community, providing exceptional value, expertise, and service to the Greater Portland/Vancouver metropolitan area.
About our parent company
Window World of Portland is a local franchise of Window World®, America's largest replacement window company. Founded in 1995 and headquartered in North Carolina, Window World® serves homeowners from coast to coast with over 200 locally owned stores nationwide.
Our parent company has sold and installed more than one million residential window replacements every year for the past nine years, and their windows have earned the Good Housekeeping Seal for seven years in a row. In addition, Window World® is an ENERGY STAR® partner and serves the community through Window World Cares®, a charitable arm of the company that has raised millions of dollars for organizations such as St. Jude Children's Research Hospital®. In 2010, Window World Cares® was named the "New Corporate Partner of the Year" by St. Jude's, acknowledging our dedication to fundraising.
Founder Leon Whitworth originally sold his baseline window for just $189, which quickly gained attention as this affordable price defied industry standards. Window World®'s motto and guiding principle has remained the same since 1995: Simply the Best for Less®.
About the owners
John Rouse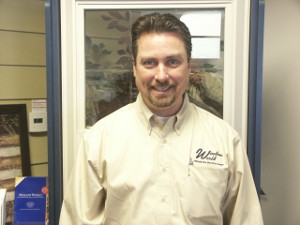 Window World of Portland owner John Rouse.
John Rouse started in the home remodeling industry in 1986 as the youngest salesperson ever hired by a large national company. He specialized in window and siding sales, and within three years he was promoted to a sales management position in a multi-million dollar organization managing a sales team of 24 salespeople. For the next 30 years, John was involved in all facets of the industry including the actual window installation process. In 1999, he became a regional manager for another large national company and ultimately became a partner/owner of a new location in the Oregon market.
In 2007, John became a regional manager and partner with the Window World team in the Portland, Oregon market. John is now the proud partner/owner of the Window World of Portland location, and his level of urgency is matched by few when it comes to quality, communication, and customer satisfaction. He has a strong belief in delivering the highest quality products for the fairest pricing in the industry.
Bill Mallory
Window World of Portland owner Bill Mallory.
Bill's interest in building began when he was young, thanks to his fascination with how things work and how to put things together. His early projects included building models and making boats out of balsa wood. After graduating from the University of Missouri-Columbia, Bill met his wife and they got married. Two weeks after saying their vows, they packed up a 26-foot-long moving truck and moved to the Northwest to begin their new lives.
Bill started in the construction trades in 1992 and became a general contractor specializing in remodeling and additions. As his expertise grew, he became employed as a project manager in charge of installation with products ranging from siding, windows, and patio covers to whole house remodeling and building custom homes. About seven years ago, Bill Mallory and John Rouse became the business partners and owners of the Window World franchise in Portland.
In the past 25 years, Bill has been blessed with a beautiful wife, two loving daughters, a grandson, and a passion for the work he's been devoted to.
"The technology and design of the trade I have worked in may have changed over the course of my career but my values remained the same. I feel privileged in my role of installing products and services that provide efficiency and beauty for our clients and my goal is to ultimately transform their houses into their homes."
Looking for a price? Get a no cost, no obligation free estimate.